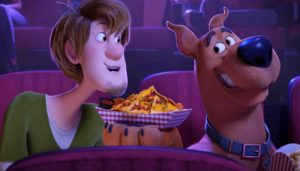 Theaters are wary that a successful "Scoob!" run could suggest that VOD and theatrical can successfully coexist.
When Universal released "Trolls: World Tour" on VOD April 10, it was also available in the few open (drive-in) theaters. On May 15, Warner Bros. will release "Scoob!" on VOD — and that's the only place audiences will find it. A Warner Bros. spokesperson confirmed it will play no theaters, and sources suggest that Universal's "The King of Staten Island" may follow suit.
It seems like a counterintuitive decision. Indoor theaters continue to open, albeit slowly. At this writing they're still outnumbered by drive-ins, which are doing record business; comparatively, multiplexes' numbers are suffering.
Both are showing now-familiar VOD titles, the equivalent of second-run movies, yet some of the best drive-ins are grossing multiples better than they did a year ago with "Avengers: Endgame" and "Pokemon Detective Pikachu."
However, indoor theaters must contend with a public suspicious of public gatherings and safety measures. Wouldn't a new film be exactly what exhibitors need to lure patrons?
Instead, Warners spends heavily on media ads that emphasize "see it at home" with no reference to theaters and push the higher-priced option to own ($24.99), along with the $19.99 48-hour rental.