Oscar®-winning Animation Studio, Creators of Coraline, ParaNorman, The Boxtrolls and Kubo and the Two Strings, Judges First Pop-Up Exhibit During Comic-Con and PRIDE Celebrations A Huge Success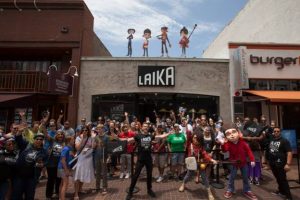 [San Diego, CA; July 25, 2017] — 48 LAIKA puppets are packed up in protective wrapping, sets and props from all four Oscar®-nominated LAIKA films are en route back to the studio in Oregon, and the LAIKA brand ambassadors who guided over 7,000 fans on detail-laden tours of The LAIKA Experience from July 14-23 in San Diego are relaxing their strained vocal chords. And for the fans who lined up for hours to get a close-up look at the artistry and magic of their favorite animation studio, favorite moments from The LAIKA Experience continue to excite the imagination.
Atop the bespoke storefront that was converted into the pop-up exhibit for the Oregon-based animation studio, nine-foot tall cutouts of its cinematic heroes, Coraline, Norman, Eggs and Kubo, beckoned visitors as they strolled in the heart of the Gaslamp Quarter. The LAIKA Experience, located at 520 Fifth Avenue, featured an up-close look at the artistic detail and imagination behind LAIKA's groundbreaking films, all of which have been nominated for Academy Awards® and numerous other honors. The exhibit showcased the evolution of the studio's unique blend of handcrafted stop-motion animation and visual effects magic in four imaginatively themed rooms inspired by each of LAIKA's films. The extensive display of original sets, puppets and props immersed guests in LAIKA's fantastical worlds.

Admission to The LAIKA Experience was free and 10 lucky winners of a daily drawing took home a pair of Nikes created for each film by legendary sneaker designer Tinker Hatfield.
Hundreds of fans lined up for as long as four hours to see and interact with the props, puppets, monsters, and sets from LAIKA's award-winning films. They viewed fan art, mingled with the costumed characters, and bought LAIKA merchandise, including a limited edition action figure Coraline doll and display case (only 3,000 were created). LAIKA recently signed Striker Entertainment as its exclusive licensing agency and collectible giant NECA saw brisk business for LAIKA merchandise at its Comic-Con® booth and created quite a stir with the news that bespoke replicas of LAIKA's hero puppets will be ready for order by the end of the year.
Travis Knight, President & CEO of LAIKA and director of Kubo and the Two Strings, autographed all manner of items, from posters to sneakers to teeny tiny LAIKA film ephemera and took pictures with fans for over 90 minutes. He also served as guide for New York Times bestselling author/illustrator Tony DiTerlizzi (The Spiderwick Chronicles; Star Wars: The Adventures of Luke Skywalker, Jedi Knight) on a Facebook Live tour of the Experience for WIRED Magazine.
"By any standard and all metrics, The LAIKA Experience was a profound success in San Diego," says Brad Wald, LAIKA's CFO and SVP, Business Operations. "We were so heartened by the enormous outpouring of fan affection and respect. Our impression was that there was a robust appetite for bringing LAIKA directly to our fans, but this response exceeded our expectations and confirmed our belief that LAIKA is a fan favorite. It makes us even more excited about the upcoming major LAIKA retrospective that will run at the Portland Art Museum from October 14, 2017 through May 20, 2018. Planning will begin soon to bring LAIKA exhibitions throughout the U.S. and around the globe."
Wald continues "There was such pent up demand for LAIKA merchandise that we sold just under 4000 units during the run of The LAIKA Experience. Our fans are clearly reveling in this new way to connect with the studio and we will be making an announcement soon on more opportunities to satisfy the desire for LAIKA merch."
LAIKA launched its revamped social channels concurrent with The LAIKA Experience as well and saw huge increases in all its platforms (FB, Twitter, Instagram, YouTube) with constantly updated content from the exhibit. Of the 7000 fans who visited The LAIKA Experience, over 4,000 posted about LAIKA on social, a testament to the exhibit's physical beauty and impact. The studio enjoyed hundreds of thousands of engagements on the LAIKA pages. LAIKA Studios content appeared in 3.2 million newsfeeds over opening week and almost 50K fans watched our WIRED Magazine Facebook Live tour of the exhibit.