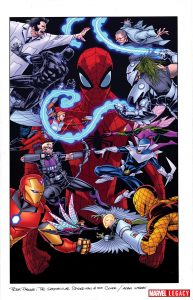 The epic 56-page issue hits comic shops this February
He's a staple of the Marvel Universe, and this February, Peter Parker's legacy will be honored with a milestone issue in PETER PARKER: THE SPECTACULAR SPIDER-MAN #300.
A celebration of the Spider-Man legacy, PETER PARKER: SPECTACULAR SPIDER-MAN #300 follows the reveal of Peter Parker's true identity as he goes up against the Tinkerer in what promises to be his biggest challenge yet! It's a Mighty Marvel story worthy of a 56 page epic as the webslinger is joined in his fight by several Marvel heroes, including Black Panther, Iron Heart, Hawkeye, Wasp and more.
"We don't take important issue numbers like #300 for granted," teased executive editor Nick Lowe. "In this issue, Chip and Adam not only tie together all the threads they've laid down over the last year, but twist and turn you bigger than you thought possible and tee up the next arc that EVERYONE will be talking about."