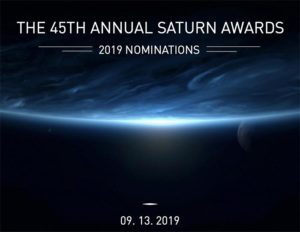 Nominations for the 45th annual Saturn Awards, honoring motion picture, television, home entertainment and live stage productions, were announced today. A beloved event for many of Hollywood's top creative talent, the awards show will be available for the first time ever to global fans via a streaming partner, to be announced shortly. All 2019 Saturn Awards winners will be unveiled at the official ceremony on Friday, the 13th of September at the historic Avalon Theater in Los Angeles.
Leading the way with 14 Saturn Award film nominations is Marvel/Walt Disney Studio's Avengers: Endgame, and Walt Disney Studio's Aladdin in second place with nine. For television and streaming, HBO's Game of Thrones leads with nine nominations, with The Haunting of Hill House and The Walking Dead following second with six nominations each. As a studio overall, Disney leads with 44 nominations among 12 film and television projects across its various companies, Marvel, Walt Disney Studios, Pixar, Lucasfilm Ltd. and the Disney Channel.
As part of the show's revitalization in 2019, the Saturn Awards has moved from its traditional June date to Friday the 13th of September. To accommodate this change, the eligibility window for this year's nominations is based on a 16-month eligibility period, which includes projects publicly released from March 1, 2018 through July 7, 2019. The 46th annual Saturn Awards will be held at the end of summer/early fall 2020 and will resume a 12-month eligibility period.
2019 SATURN AWARDS NOMINATIONS
FILM
BEST COMIC-TO-MOTION PICTURE RELEASE
Aquaman
Avengers: Endgame
Avengers: Infinity War
Captain Marvel
Shazam!
Spider-Man: Far From Home
Spider-Man: Into the Spider-Verse
BEST SCIENCE FICTION FILM RELEASE
Alita: Battle Angel
Bumblebee
Jurassic Park: Fallen Kingdom
Ready Player One
Solo: A Star Wars Story
Sorry to Bother You
Upgrade
BEST FANTASY FILM RELEASE
Aladdin
Dumbo
Fantastic Beasts: The Crimes of Grindelwald
Godzilla, King of the Monsters
Mary Poppins Returns
Toy Story 4
Yesterday
For the full list of nominations, visit www.SaturnAwards.com.