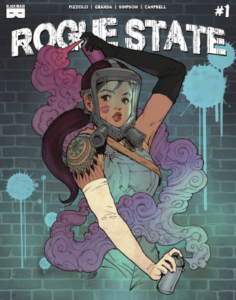 Rogue State #1 becomes all time best seller for Black Mask, selling out on launch day with a second printing announced. Black Mask is rushing Rogue State to second printing with two covers by Jasmin Darnell (Godkiller) that will arrive in both standard and 'gallery' (no-text) editions.
While Jasmin Darnell's cover art presents a powerful image of post-apocalyptic street artist Dust Girl, Ramon Villalobos' Tour Cover pays homage to the history of socially-engaged public art in San Francisco's Mission District, where Rogue State is set.
Rogue State #1 reunites C. Granda and Matteo Pizzolo, who first collaborated on the acclaimed CALEXIT: SAN DIEGO project which partnered with Indivisible on a 2018 midterms Voter Registration campaign at San Diego Comic Con as well as a California-wide Get Out The Vote initiative and raised funds for migrant families separated at the US-Mexico border.
Rogue State combines Granda's experiences coming of age amid political violence in Medellín-Colombia with Pizzolo's street-politics, crafting the story of a near-future America overrun by political violence set in the embattled blue-enclave of 'Occupied San Francisco.'