The 6-part crossover with Venom and X-Men Blue begins this January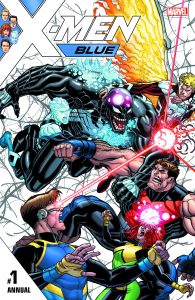 In the far reaches of space, the Poisons attack the Marvel Universe – but who exactly are these new enemies, and what destruction are they planning to unleash on Earth? This is just the beginning of Poisons diabolical plot to overthrow the Marvel Universe…and it requires an unexpected team-up. This January, the Children of the Atom will join forces with Eddie Brock for a 6-part crossover that begins in X-MEN BLUE ANNUAL #1.
First seen in VENOMVERSE, the Poisons pose a threat that can only be stopped by the X-Men – and Venom. When the X-Men drag Venom into space for help, it turns out that they're going to need to save the universe from something a little scarier than their own troubles, and Eddie Brock and his faithful Symbiote might be the only thing that can help stop it.