By AI Creative Media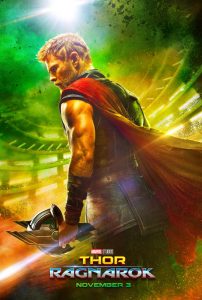 The first trailer for 'Thor: Ragnarok' is here, and the god of Thunder is at it again, complete with helmets, chains and flames, minus Thor's locks and powerful hammer. The new trailer shows Cate Blanchett's Hela, the Asgardian goddess of death. There's also a few shots of Tessa Thompson's Valkyrie.
After what transpired in Avengers: Age of Ultron, we see Thor imprisoned without his weapon. But its really at the end part where we see a familiar face, the Hulk in what seem like a gladiator-esque battle with Thor: "He's a friend from work!"
Here's the official synopsis from Disney:
Thor is imprisoned on the other side of the universe without his mighty hammer and finds himself in a race against time to get back to Asgard to stop Ragnarok — the destruction of his homeworld and the end of Asgardian civilization — at the hands of an all-powerful new threat, the ruthless Hela. But first he must survive a deadly gladiatorial contest that pits him against his former ally and fellow Avenger — the Incredible Hulk!
Directed by Taika Waititi, "Thor: Ragnarok" hits theaters Nov. 3 and also stars Tom Hiddleston as Loki, Jaimie Alexander as Sif, Mark Ruffalo as Bruce Banner/the Hulk, Benedict Cumberbatch as Dr. Strange, Idris Elba as Heimdall and Jeff Goldblum as the Grandmaster. Here it is, Thor: Ragnarok's first trailer.