By Sukhbir Dhillon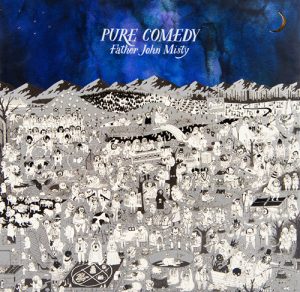 Father John Misty's, also known as John Tillman album released on April 7, 2017, making it his third album in the past five years, yet this album, thematically, takes on on a whole new world of it's own. Pure Comedy is reflection of Tillman's perspective on the current state of the world, and by that extension, the album take on darker tones and almost creates a sense of hopelessness in the listener, surely Tillman intended for this.
From the first track-list, also titled Pure Comedy, to the last track, "In Twenty Years or So", Tillman presents himself as a modern prophet by taking his earlier ideas from songs, like "Bored In The USA", and building on the concepts of the sedation of the American people by means of media.
Yet even with the ideological difference Pure Comedy takes on, the music that his fans are familiar with is still there, but what truly makes Pure Comedy special is what it achieves beyond the notes. This album is a prophecy from a man who has had enough and it will be interesting to see if his predictions prove to be correct.
Overall, old fans and new fans will be able to enjoy Pure Comedy as much as they allow themselves to.