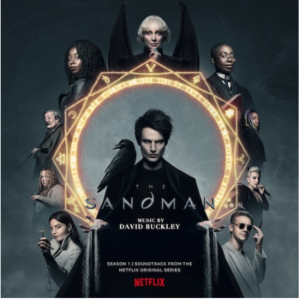 WaterTower Music has announced the release of The Sandman: Season 1 (Soundtrack From the Original Netflix Series) which features music by composer David Buckley (The Good Wife, The Gifted). This 27-track score is available now on all major digital platforms for digital purchase and streaming.
"The Sandman is an incredibly eclectic story spanning everything from other-worldly magic to deep trauma and horror, but is always told with real human feelings," says Buckley.
The Sandman's range of genres gave Buckley the opportunity to embrace a large palette for the score including full orchestra, choir, early music instruments, such as viola da gamba and baroque flutes, and some esoteric sounds. He combined historic classical music and instruments with modern electronic textures to bridge time within the music.
One of the most notable experimentations is that of Dream's theme, using bells to portray his character's ruling of the sleeping world, reminding the viewer of a midnight chime. The bells are sometimes warped or dissonant, mimicking the inconsistency and eclecticism of dreams. As an Endless, Dream's theme is ubiquitous, being used throughout episodes regardless of his on-screen presence.
The emotional score switches from dark to dainty themes episode to episode while still remaining cohesive and homogenous. Buckley created sounds unique to every moment of the series, making the music feel alive and distinctive.