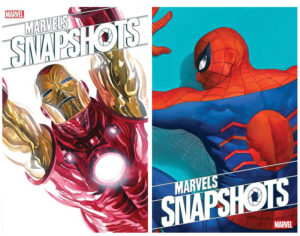 Starting next month and continuing through June, MARVELS SNAPSHOTS will be a bi-monthly series consisting of eight standalone issues offering unusual viewpoints on some of your favorite Marvel heroes. Curated by industry legend Kurt Busiek with iconic painted covers by Alex Ross, this milestone series will feature new creative teams for each giant-sized story handpicked by Busiek himself! In May 2020, this unforgettable tour through Marvel history will showcase tales focusing on the Avengers and Spider-Man.
First up will be an Avengers story like none other by superstar writer Barbara Randall Kesel (Hawk & Dove, Ultragirl) and acclaimed artist Staz Johnson (New X-Men, Robin). Set during the influential David Michelinie, John Byrne, and George Perez era of AVENGERS, MARVELS SNAPSHOTS: AVENGERS will depict a romance that could only happen in the Marvel Universe when a rookie cop and new-to-the-city emergency medical technician meet amidst a devastating battle between Earth's Mightiest Heroes and a giant, rampaging robot.
"When Kurt first asked me about this project, it took me a minute to realize he wasn't just telling me about this fun Marvels-eye concept, he was asking me if I wanted to be involved!" Kesel said. "My favorite stories are the ones that step into the personal lives of people in the vicinity of the Big Action, so a big YES to anything Marvels-scale, and getting to step back into that sweet yet insane 80s Avengers vibe was the frosting on the crazy cake! I have so totally enjoyed adding a little piece to the mighty Marvel mythos. Kurt started it off with an image that became the catalyst for two non-powered NYC heroes who would "meet cute" during a crisis. Then, when we started speculating about what the people on the street do when chunks of buildings fall from the sky…where do they go to shelter out the emergency?"
Following that will be MARVELS SNAPSHOTS: SPIDER-MAN written and drawn by industry great, Howard Chaykin! This action-packed story will be told through the eyes of a lowlife criminal just trying to make a living in the super hero infested streets of New York City. See firsthand how hard life as a henchman can be when someone like Spider-Man lurks around every corner!
"I was delighted to be summoned by the fabulous Kurt Busiek to work on the Marvel Snapshots series," said Chaykin. "Not having worked for Marvel in any steady capacity in nearly eight years, my delight was also framed in surprise. Kurt is a stand-up cat, and I'm grateful to participate in this project."