From breaking news to new cooking ideas, Marvel's new digital series will provide fans a variety of new content to experience across Marvel.com and social media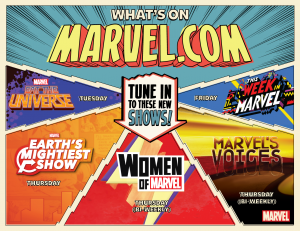 At C2E2, Marvel New Media announced an all-new schedule of digital series featuring a variety of programming for both die-hard and casual Marvel fans. These new digital series include relaunched versions of its continuing popular shows such as This Week in Marvel and Women of Marvel; and new series like Earth's Mightiest Show, Marvel's Voices, Marvel's Eat the Universe and Marvel's first-ever scripted podcast Wolverine: The Long Night for fans to enjoy.
Marvel New Media, a division of Marvel Entertainment, is focused on producing content from all aspects of the Marvel Universe, including breaking Marvel news, non-fiction storytelling, original digital series, podcasts, and other interactive content to reach new audiences with various interests.
"Marvel New Media is focused on nurturing a more intimate and approachable relationship with both our super fans and casual fans by embracing and refreshing Marvel's fundamental brand attributes, and by redefining how those fans experience the Marvel Universe across all platforms," said Dan Silver, vice president, head of platforms and content for Marvel New Media.

"As we launch and expand these new digital series, we will be introducing fans to a whole new perspective of the brand to reflect the core values of Marvel, our heroes, and extending into the real-life Super Heroes that inspire us every day."
Fans attending the Marvel: House of Ideas panel at C2E2 will join Marvel's Ryan Penagos (Agent M) and Lorraine Cink for a first-ever behind-the-scenes look at Marvel headquarters' new creative shooting space, new games from Earth's Mightiest Show, and a discussion with the creative team behind the new serialized podcast, Wolverine: The Long Night. To access the latest Marvel digital series and content, fans should visit Marvel.com/digitalseries or follow Marvel on Facebook, Twitter, and Instagram: