By Creative Media Times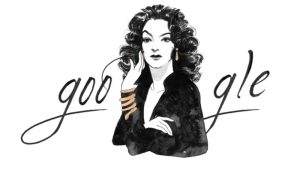 If you opened Google today and wondered who their distinctive new doodle is, that's a portrait of iconic Mexican golden age actress María Félix, who would have turned 104th on Sunday.
Also a fashion icon and a muse to many renowned artists, the Google doodle shows the beautiful and glamorous cinema icon in black jacket and gold jewelry and with her trademark raised eyebrow.
"Though her career started in Mexican cinema, Maria Félix's impact on cinema, art, music, and fashion reverberates overseas, transcending barriers to establish her as extremely influential female voice in international cinema. Created by guest artist Paulette Jo, today's Doodle captures the stunning movie icon's portraiture. Happy 104th birthday to Maria Félix, a cinematic pioneer!" Google says.
Google also posted a short tribute on Twitter: "Today's #GoogleDoodle marks the 104th birthday of Mexican actress Maria Félix, whose impact on film, art, music and fashion established her as an icon of international cinema."
Born on April 8, 1914, in Alamos, Sonora, Mexico, Maria Felix became a star in the early 1950s and starred in more than 47 films in Mexico, Argentina, Spain and France.
Though she had her start in Mexico in the film The Rock of Souls, original title of which is El peñón de las Ánimas (1943), her popularity later landed her in films by legendary European directors Jean Renoir and Luis Buñuel.
She has since been considered the most famous Mexican movie star, up until she died in 2002 at the age of 87.