Feature Length Film And Six, Four-Minute Digital Shorts Set to Debut the Property. Key Voice Cast Includes Dove Cameron, Chloe Bennet, Tyler Posey, Kim Raver and BooBoo Stewart Among Others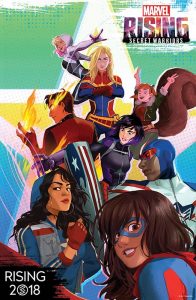 Marvel Entertainment announced today, "Marvel Rising," a brand-new, multi-platform animation franchise starring the next generation of Marvel heroes set to launch in 2018. The program will launch with six, four-minute digital shorts that spotlight Spider-Gwen with her new secret moniker, Ghost-Spider, and introduce audiences to the world of "Marvel Rising." Following the shorts, a feature-length animated film, "Marvel Rising: Secret Warriors" will premiere later that year. Distribution partners for the content to be announced at a later date.
The content features an all-star line-up of voice talent including Dove Cameron, Chloe Bennet, Tyler Posey, BooBoo Stewart, Kathreen Khavari, Milana Vayntrub, Cierra Ramirez, Kamil McFadden, Skai Jackson, Kim Raver, Ming-Na Wen, Steven Weber, and Dee Bradley Baker among others. Future stories and content are also being developed across Marvel's digital and publishing platforms and will be announced at a later date.
"Marvel Rising: Secret Warriors" is a long-anticipated event, bringing together Marvel's newest and beloved characters that have garnered major fan excitement over the last few years. Powered teens Ms. Marvel, Squirrel Girl, Quake, Patriot, America Chavez, and Inferno join forces as an unlikely, but formidable crew of aspiring heroes. When a threat no one could have expected bears down on the Marvel Universe, this ragtag, untrained band of teens have no choice but to rise together and prove to the world that sometimes the difference between a "hero" and "misfit" is just in the name.
"Marvel characters are so relatable because they live in our world and face the same challenges we do. So I'm very excited that our Marvel Rising team of heroes is so inclusive, reflecting characters with different backgrounds, particularly a set of strong female leads that our young audience can connect with," said Cort Lane, Marvel's Senior Vice President of Animation & Family Entertainment.
Sana Amanat, Marvel's Director of Content & Character Development, added, "This project is unlike anything we've done before—from featuring the rising and fan-favorite stars of the Marvel Universe, to a visually distinct animation style, this is a groundbreaking animated event. It's an action-packed adventure, full of comedy, heart and powerful messages for every kind of Marvel fan."