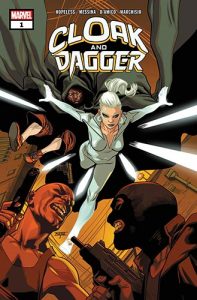 Ahead of their television debut this Thursday night on Freeform, Marvel is excited to announce a new CLOAK AND DAGGER digital exclusive comic series written by Dennis Hopeless (Spider-Woman) with art by David Messina! The 6-issue monthly limited series begins today, and readers can download the first issue right now in the Marvel Comics App or on ComiXology and Kindle.
After meeting as runaways, vigilante teenagers Tyrone ("Cloak") Johnson and Tandy ("Dagger") Bowen were illegally experimented on and gifted with mysterious powers. As the living personifications of light and dark, their complementary abilities force them to rely on each other as they team up to save innocent people on the streets of New York, and around the world. This in-continuity Digital Series has been specifically designed to welcome new readers while giving long-time Marvelites the latest eagerly-awaited chapter in this fan-favorite duo's story.
"With CLOAK AND DAGGER, we're telling the story from two very different perspectives at the same time," writer Dennis Hopeless told Marvel.com in an interview. "Tyrone and Tandy are fundamentally intertwined characters, but they see the world through different lenses. It's been a lot of fun playing with that shifting perspective. We let the reader into each of their heads, sometimes even showing the same scene from two different angles. Just like in life, it's the differences that propel the drama."
For more about CLOAK AND DAGGER, check out Marvel's Cloak and Dagger digital comic launch trailer which features editor-in-chief C.B. Cebulski and editor Devin Lewis talking about the new series, as well as a sneak peek at exciting art.