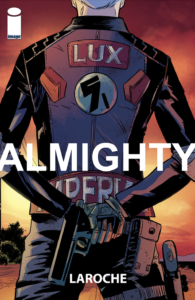 Fan-favorite creator Ed Laroche (The Warning) is back with an all-new, high-stakes, five-issue miniseries in, Almighty. This upcoming launch is set to hit shelves in February 2023 from Image Comics.
Almighty is an original sci-fi/fantasy epic that is perhaps best described as Max Max: Fury Road-style action combined with the mutated horror of Annihilation.
"I can't wait for people to experience this story; each issue ratchets up the tension culminating in one of the most unexpected climaxes put to paper," said Laroche.

The year is 2098 in a Third World America ravaged by economic collapse, anarcho-warfare, and a mysterious environmental disaster contained behind a massive wall. A girl has been abducted, and a killer has been hired to find her and bring her home.
Almighty #1 (Diamond Code DEC220101) will be available at comic book shops on Wednesday, February 1. Almighty #1 will also be available across many digital platforms, including Amazon Kindle, Apple Books, and Google Play.