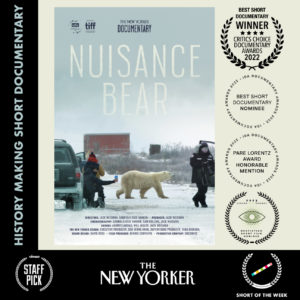 The New Yorker recently débuted the award-winning new short documentary, "Nuisance Bear," which presents a portrait of a Manitoba town where travellers arrive in droves every autumn to observe the migration of polar bears. On Nov.13 in New York City it received Best Documentary Short at the Critics Choice Documentary Awards.
The footage that filmmakers Jack Weisman and Gabriela Osio Vanden captured reveals as much about the behavior of the humans—including the scrums of wilderness paparazzi that descend on Churchill, Manitoba every fall—as that of the bears.
"Nuisance Bear" received three Critics Choice Documentary Award nominations—a first for a short—for Best Cinematography, Best Short Documentary, and Best Science/Nature Documentary.
These nominations join a list of more than a dozen other honors for the film. Most recently, the film was nominated for the 38th IDA Documentary Awards for Best Short and the Cinema Eye Honors for Outstanding Nonfiction Short.