By Creative Media Times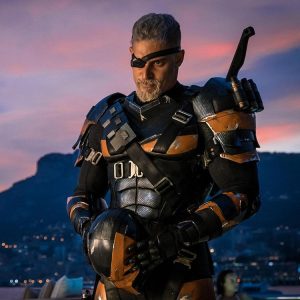 Justice League's second post-credit scene teased ruthless assassin and supervillain Deathstroke, In case you missed it, actor Joe Manganiello (True Blood) shared the first official photo of his character on instagram.
Manganiello's Slade Wilson aka Deathstoke character was first seen when Ben Affleck posted a grainy test footage to Instagram last year, presumably for his standalone Batman film.
In the D.C. Comics, "Deathstroke the Terminator" is a highly trained master fighter with enhanced strength, speed and durability granted by an experimental serum and has a healing factor that enables him to recover from physical injury faster than a normal humans. He became an assassin highly skilled in various weapons such as swords and firearms and at one point single-handedly took on the entire Justice League.
Spoiler warning. In the intriguing end credits of Justice League, we see the return of Lex Luthor (Jesse Eisenberg), apparently having escaped prison following the events of Batman v. Superman: Dawn of Justice, and relaxing in a luxurious yacht.
A boat later pulls up and reveals Deathstroke. "Shouldn't we have a league of our own?" says Lex which seem to reference the formation of fictional supervillain team Injustice League.