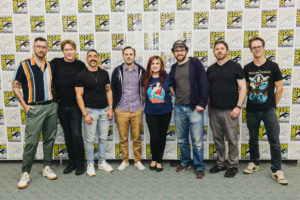 BMI and White Bear PR brought together a talented group of composers and directors for the "Character of Music" panel at Comic-Con's 50th anniversary on Friday, July 19, at the San Diego Convention Center.
The all-star line-up included renowned BMI composer Tyler Bates (R.U.N) and the director of Cirque du Soleil's new live-action thriller, R.U.N., Michael Schwandt; Emmy-winning BMI composer Frederik Wiedmann along with showrunner Aaron Ehasz (The Dragon Prince); and two-time BAFTA-winning composer Austin Wintory (Abzu) with video game director Matt Nava (Abzu). This year's panel was a full house and amongst the most popular seats at Comic-Con.
Attendees who secured a spot to see the panel included a mixture of emerging composers, directors and music fans. BMI's Anne Cecere and White Bear PR's Chandler Poling co-moderated the ninth edition of "The Character of Music."
The panelists touched on several key elements that go into producing a successful score for movies, live shows and video games, along with the key ingredients of a productive and creative relationship between composers and directors.
Wiedmann elaborated on the early stages of harmonic development for the characters on The Dragon Prince, and Ehasz emphasized on the importance of finding a composer who can be brilliant and fast when scoring for television. Bates and Schwandt expanded on music's vital role in the live-action thriller R.U.N. written by Robert Rodriguez.
Wintory and Nava discussed the benefits of developing a short cut piece in the initial stages of game scoring to align visions.
The panelists also answered questions from the audience, and participants received limited-edition swag from the composers.