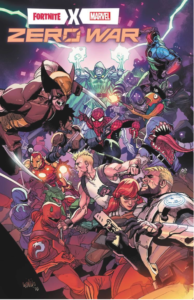 Last week, Marvel and Fortnite fans finally got to see the collision of both universes in the debut issue of the "Fortnite X Marvel: Zero War" mini-series.
Written by veteran Marvel writer Christos Gage and Epic Games' Chief Creative Officer Donald Mustard and drawn by artist Sergio Davíla, the five-issue epic stars Fortnite's heroes as they team up with Spider-Man, Wolverine, Iron Man, Shuri, and more. Fans can get an early glimpse of the Zero War's final showdown on the cover of "Fortnite X Marvel: Zero War".
"There'll be a few things you see in both the game and the comic—mostly in our final issue," Gage told IGN in a recent interview. "But for the most part, what happens in the game and what happens in the comic are different fronts in the same war. Some questions that players might have about the game are answered in the comic, and vice versa, though neither are required to follow the story in the other."

Check out the final cover now and don't miss the next thrilling issue, "Fortnite X Marvel: Zero War", when it hits stands on July 13! For more information, visit Marvel.com.