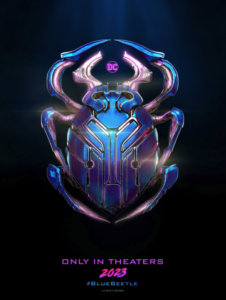 DC and Warner Bros. has released the trailer for "Blue Beetle", the highly anticipated film, based on the popular comic book character of the same name.
For those unfamiliar with the character, Blue Beetle is a superhero who first appeared in DC Comics in 1939. The character has gone through several iterations over the years, but the film will focus on the most recent version of the character, Jaime Reyes. In the comics, Jaime is a teenager from El Paso, Texas, who discovers a powerful alien artifact that fuses to his spine and gives him the ability to create a high-tech suit of armor.
The "Blue Beetle" trailer offers fans a first look at the character in action. The trailer features a mix of action-packed fight scenes and emotional moments, giving viewers a glimpse into the character's backstory and motivations. It also showcases the character's high-tech armor.
The film is directed by Angel Manuel Soto, a Puerto Rican filmmaker, and stars newcomer Xolo Maridueña as Jaime. The trailer also features other Latinx actors, including Zolee Griggs and Jorge Lendeborg Jr.
Blue Beetle is set for theatrical release on August 18, 2023.