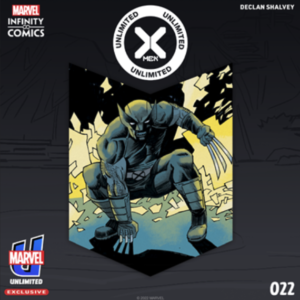 The all-new four-issue arc of 'X-Men Unlimited' will deliver a new story in issues #22-#25
The fan-favorite Marvel Unlimited anthology series kicks off a new arc. On Monday, February 14, creator Declan Shalvey takes on both writing and art in X-MEN UNLIMITED #22, beginning a 4-part storyline set within current Krakoan continuity.
The comic follows the initial "Latitude" story done by Shalvey and Jonathan Hickman. Marvel Unlimited subscribers can catch #22 in the app now and continue the adventure with new chapters each Monday.
On creating the new X-MEN UNLIMITED arc, Shalvey says, "This new story follows directly from the initial 'Latitude' story I did with Jonathan Hickman a few months back where Wolverine hunted down an A.I.M. cell responsible for kidnapping mutants from The Peak station. In 'Longitude,' we catch up with Logan as he searches for the last missing mutant and he has recruited some fellow Krakoans to get to the bottom of this. Getting to take all the reins on an X-Men story like this is a rare opportunity that I really relished." And on working in the vertical Infinity Comics format, he adds "From a writer/artist perspective, there's a lot to play with in taking advantage of the format, and getting to just pick and choose characters from the wide X-Men cast was like being a kid all over again."