Exclusive Tandem Variants with Boom! Studios, Signings, and his own booth, #1732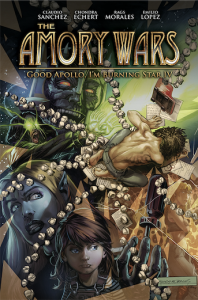 July 18, 2017 – Los Angeles, CA – Claudio Sanchez returns to San Diego Comic Con this year with his NY Times Bestseller, The Amory Wars. His latest 12 issue series, Good Apollo, I'm Burning Star IV, hit comic shops in April via Boom! Studios and Claudio's own Evil Ink Comics.
Good Apollo, which landed inside the Top 200 Comichron Charts even with a large direct-sales platform, focuses on a not-so-ordinary man, Claudio Kilgannon. In the epic series, Kilgannon, with the help of a blue-skinned heroine named Ambellina, is thrust into the unlikely position of leading a rebel army into battle to dethrone an evil dictator. All 4 issues and variants of Good Apollo will be available at the Evil Ink Booth (#1732).

To celebrate Comic Con, Evil Ink has partnered with Boom! to bring fans two variant covers for Issues 3 and 4. Together, the two covers make up a single image featuring the major characters in The Amory Wars (art by Eryk Donovan (MEMETIC, COGNETIC, EUGENIC).
Boom's half, only available at booth #2229, features the "Evil" characters: Wilhelm Ryan, Mayo Deftinwolf, Vielar Crom, etc. Evil Ink's cover, available at booth #1732, depicts the "Good" characters: Claudio, Ambellina, Inferno, etc.
Claudio Sanchez, the frontman of Coheed and Cambria, and his wife Chondra Echert, the writer of The GAIBSIV series, will be signing these variants and other Evil Ink offerings at both booths over the weekend.
Signing times and locations are as follows:
Thursday (Boom #2229): 1pm-1:50pm
Friday (Evil Ink #1732): 5pm-5:50pm
Saturday (Boom #2229) 11am-11:50am
Saturday (Evil Ink #1732) 5pm-5:50pm
Sanchez also announced that the first four issues of The Amory Wars: Good Apollo, I'm Burning Star IV have been collected, and the trade will hit stands on November 1. Art by Rags Morales.