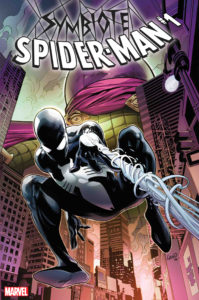 Peter Parker. The black costume. The sinister secret called Venom. This April, comic legends Peter David (Ben Reilly: The Scarlet Spider) and Greg Land (Domino, Hunt for Wolverine) team up for an all-new tale that will explore Peter Parker just before he learned that his infamous black suit was an otherworldly evil symbiote
"VENOM may be my day job and favorite Spider-Villain, but my favorite fictional character of all time is the one and only SPIDER-MAN – and far and away, this is one of the most exciting projects I've ever had the privilege of working on in my five and a half years here at Marvel," said editor Devin Lewis.
"This is an in-continuity story of Peter Parker A.K.A. The Amazing Spider-Man set in the weeks he was wearing the alien symbiote costume that would later become one of his greatest foes! And all your favorites are there – Black Cat, Aunt May, The Bugle. This is classic Spider-Action in the Mighty Marvel Manner!"
And with SYMBIOTE SPIDER-MAN #1 pitting the wall-crawler against one of Spider-Man's most enigmatic nemeses, there's no telling what kind of epic adventure will ensue.
"What's MYSTERIO doing on the cover?!" teased Lewis. "He never fought Symbiote Spidey! Or did he?! Now, I know a lot of y'all out there in Mighty Marveldom are going to scoff at that – that this story is in-continuity – but TRUST ME! Peter, Greg and I have all done our homework – we've read and reread the original ALIEN COSTUME SAGA in its entirety, revisited old stories and talked around those classics literally, for hours. This is Peter Parker as Spider-Man, wearing one of the most iconic costumes in all of comics, and we're treating this story will the heart, seriousness and respect that that entails as a result."