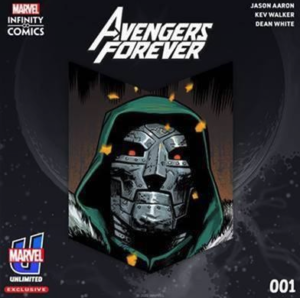 The 4-part Infinity Comic will roll out weekly, exclusively on the app. On Wednesday, March 23, Avengers Forever Infinity Comic #1 launches on Marvel Unlimited.
Written by Jason Aaron, with art by Kev Walker and colorist Dean White, this tie-in to the current Avengers Forev series expands on the Multiverse Avengers story playing out in comic shops now. Before reading Avengers Forever #1, hitting Marvel Unlimited on March 28, readers can set the stage with the Infinity series that also builds on Aaron's landmark Avengers (2018). New issues of the 4-part series will be available weekly on the app.
Synopsis:
Across the whole of creation, a war is being waged—between the Multiversal Masters of Evil, a collection of the greatest scourges in the Multiverse, and the forces of Avenger Prime, who leads an organized resistance against their destruction from Avengers Tower at the heart of the God Quarry. This…is AVENGERS FOREVER.
Marvel Unlimited is a one-stop destination for over 29,000 comics spanning the entire Marvel Universe. The app is available for iPhone®, iPad®, Android devices™ and on web. For more information on Marvel Unlimited comics: www.marvel.com/unlimited.