The publishing division of Famous Monsters will debut Echo Lake's crime thriller in December, followed by several Silver Scream Festival winners — WHISPER IN THE WOODS, BLACK SUNDAY, and HAG — in early 2019.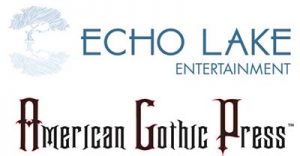 Judging by the packed house at Comic-Con's "Sixty Years of Famous Monsters" panel on Friday afternoon, the classic horror brand is alive and well as it marches into new partnerships that will expand its audience and hit your local comic shop.
The panel, consisting of Famous Monsters and AGP Publisher Philip Kim, Famous Monsters and AGP Editor Holly Interlandi, special effects artist and FACE OFF star Walter Welsh, NICE creators Dagen Walker and Joseph Ettinger, actor/director John Terlesky, artist Marc Rene, and artist Tula Lotay, ran for a tight fifty minutes of rapid fire questioning from moderators Aaron McLane and Matt Corrigan of the Launchpad Podcast. Topics included the 2018 annual magazine publication, special effects makeups and their legacy, and several comic book announcements — including, of course, assassin sensation NICE, which came to American Gothic Press by way of collaboration with Echo Lake Entertainment.
The good-natured Walker and Ettinger conceived of NICE as a kind of hipster assassin mystery. "It's based on real people we know," they said, reflecting ironically on their own fashion and choices of facial hair. When asked what in particular influenced his storytelling, Ettinger simply quipped, "Drinking."

Director John Terlesky, who has worked on everything from CRIMINAL MINDS to AGENTS OF S.H.I.E.L.D., was first attached to the pilot when it was still in screenplay form. He insisted that the characters and opening sequence of the story hooked him immediately, and he could visualize everything that was happening. Much credit throughout the panel went to interior and concept artist Marc Rene, who described his thought process while mapping out panels as character-driven. Cover artist Tula Lotay was also on hand to relay her creative process, mentioning both Rene's work and an email from the AGP editors about atmosphere that had been extremely helpful.
But NICE wasn't the only thing Famous Monsters and American Gothic Press talked about. Special effects artist Walter Welsh kicked things off by teasing his role on the final season of SyFy's hit series FACE OFF as an all-star. Editor Holly Interlandi outlined the yearly Famous Monsters print publication as a PowerPoint presentation revealed two Sanjulian covers — King Kong and Frankenstein with his Bride. Publisher and writer Philip Kim briefly described the sequel to MONSTER WORLD, one of AGP's most popular titles, while art from Piotr Kowalski and colorist Dennis Calero filled the screen.
Three new titles, all obtained from Famous Monsters' competition at the yearly Silver Scream Festival, were also announced. Denis St. John's WHISPER IN THE WOODS will appear as a short story in the aforementioned annual, released in October, before being completed as a print graphic novel in 2019. Two Best Graphic Novel Script winners — BLACK SUNDAY by Matt Dreiling with art by Polychrome, and HAG by Chad Stroup with art by Jon Clark — will debut as digital first issues before being collected in print. All three feature haunted personalities and uniquely designed monsters, as appropriate for a Famous Monsters-affiliated publisher.
Everyone at the panel received a free NICE poster, and artist Tula Lotay enthusiastically signed several of them as the crowd dispersed.
San Diego Comic-Con, the birthplace of countless pop culture announcements, runs through Sunday, July 22.
ABOUT ECHO LAKE ENTERTAINMENT
Echo Lake Entertainment is a film and television finance and management company based in Beverly Hills, California.
Since its founding in 1998, Echo Lake Productions has produced and/or financed more than 30 films. The company's films have earned numerous awards including 8 Academy Award nominations and one Academy Award win. Echo Lake is interested in high end specialty films, especially those aimed at a mature audience. The company has a non-exclusive deal with FilmNation International with regard to international distribution. Echo Lake also manages the Blue Lake Media Fund, which invests in the company's projects and looks to finance films in the $10 and $30 million budget range. Echo Lake's television division has set up scripted television projects in the US and abroad.
Echo Lake Management represents established and emerging actors, writers, and directors in Television, Film, and Digital Programming. Our team of twelve talent and literary managers is led by industry veteran Mike Marcus, one of the lead agents at CAA before becoming President and COO of MGM Pictures. In the expanding frontiers of television and digital, and in the changing structure of feature films, ELM's entrepreneurial spirit and thoughtful guidance helps clients find new ways to succeed. ELM represents clients all over the globe and benefits from the reach and international success of the company's production arm, Echo Lake Productions.
ABOUT AMERICAN GOTHIC PRESS
American Gothic Press is the comic book publishing imprint of Famous Monsters of Filmland magazine (est. 1958). Famous Monsters was the first entertainment fan magazine of its kind, and editor Forrest J Ackerman was involved in the genesis of classic comic characters such as Vampirella. American Gothic Press marks Famous Monsters' journey back to the creation of new worlds and original characters.
American Gothic hosts a wide variety of original titles (KILLBOX, BROKEN MOON, MONSTER WORLD), adapted work from other media (Jeremy Robinson's PROJECT NEMESIS), and licenses (IRWIN ALLEN'S LOST IN SPACE: THE LOST ADVENTURES). Their series have been nominated for industry awards, and their creative roster includes fresh talents such as Jon Clark and Marco Ferrari, established industry veterans like Steve Niles and Darick Robertson, and celebrities such as John Carpenter and rock musician John 5.
ABOUT SILVER SCREAM FILM AND COMIC FESTIVAL
Designed to honor legendary filmmakers, discover new talent, unite the entertainment community, and encourage genre conversation, the annual Silver Scream Film and Comic Festival is a three-day event comprised of film screenings, award ceremonies, social gatherings, and celebratory parties. Silver Scream Fest, produced by Famous Monsters and Santa Rosa Entertainment Group, accepts feature and short length films, animations, screenplays, and comic book or graphic novel submissions.