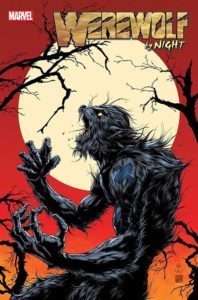 This April, you'll be able to see the work of acclaimed Japanese artist, Takashi Okazaki, on the cover of the brand new series, WEREWOLF BY NIGHT! Known for creating the hit manga series Afro Samurai, which went on to inspire both an anime series and an Emmy-nominated television film, Okazaki now brings his incredible talent to Marvel Comics.
Written by Taboo and Ben Jackendoff with art by Scot Eaton, WEREWOLF BY NIGHT #1 will introduce an all-new Werewolf by Night, a young man who must deal with a family curse while trying to protect his community from a deadly threat. For this exciting new series, Okazaki captures the new hero's internal struggle in beautiful detail with a special variant cover to mark his Marvel debut.
"I've wanted to bring Takashi to Marvel ever since we first met during production of Afro Samurai, and we're thrilled he's finally found some time in his schedule," says Editor-in-Chief C.B. Cebulski. "The way he illustrates characters to kinetically leap out of his art reminds me of so many of Marvel's masters, and I knew he'd be perfect for covers here, as this Werewolf by Night image perfectly shows!"
"Takashi Okazaki is a master whose style and sense of design have a lot of fans at Marvel," Editor Jake Thomas added. "We were so honored to have WEREWOLF BY NIGHT be his first work with Marvel, but it is sure to only be the beginning. His character work and evocation of mood is unparalleled, so it was a real thrill to have him help premiere our new Werewolf By Night. And what an incredible job he did!" See Okazaki's cover below and howl along with the new Werewolf by Night when it hits store in April! For more information about the series, visit marvel.com.