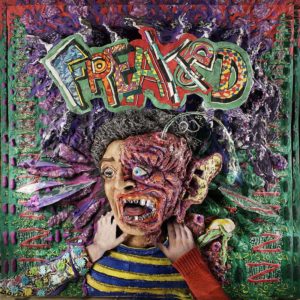 The vinyl release marks the first time the soundtrack for the cult film will be available in any format.
Death Waltz Recording Company brings both the score and the songs featured in Alex Winter and Tom Stern's FREAKED. Available for the first time in any format, this 2XLP set features all new artwork from David Daniels. Inventor of Strata-Cut clay animation, Daniels did the original, mind-melting opening credit sequence for the film.
Disc One features songs from the movie from the likes of Butthole Surfers, Blind Idiot God, Henry Rollins, Axiom Funk, Iggy Pop, and more. Disc Two features Kevin Kiner's original score, which so good that it could easily rival any number of Amblin's films from the 1980s. Kiner's music is incredibly nuanced, yet playful and bombastic (in a good way). It is a revelation to listen to the score independent of the film.
"FREAKED is a film that absolutely more people should know, a mix of The Three Stores and extreme body horror. It's truly gonzo, funny as all hell, has an incredible cast, absolutely killer practical FX, and a soundtrack that features everyone from Henry Rollins to George Clinton along with Kevin Kiner's beautiful orchestral score! We are thrilled to be releasing FREAKED for the first time on vinyl, three years in the making and worth every minute spent on it. If you haven't seen FREAKED head to Amazon Prime right now where it is available and revel in this true Hollywood oddity," said Spencer Hickman, Mondo & Death Waltz Recording Company Head of Music. FREAKED – Original Motion Picture Soundtrack 2XLP is available for sale now at MondoTees.com