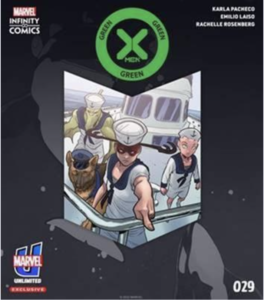 'X-Men Unlimited' #29-33 will resume Nature Girl's story in a new five-part arc.
The fan-favorite Marvel Unlimited anthology series kicks off a new story arc this Monday, April 4 in the exclusive Infinity Comic format! Resuming the "X-Men: Green" story first told in X-MEN UNLIMITED INFINITY COMIC #5-12, issue #29 picks up where Nature Girl and Curse left off with an all-new 5-part arc.
Writer Karla Pacheco teams with artist Emilio Laiso for X-MEN UNLIMITED's latest saga! Read the newest installment of "X-Men: Green" in the Marvel Unlimited app now, and read new chapters weekly every Monday.
In the first part of its second arc, Nature Girl and Curse, fresh off their escape from Krakoa, commandeer a ship with Sauron (and Saoirse). Now, with, only each other to call a crew, the foursome accept their mission from the Marauders' Pyro: stop a pack of whale hunters by any means necessary.
X-MEN UNLIMITED #29, Writer: Karla Pacheco, Artist: Emilio Laiso, Colorist: Rachelle Rosenberg, Editor: Jordan White