The mystery deepens this January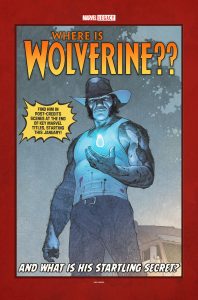 His return to the Marvel Universe was just the beginning, and the Infinity Stone he holds could change everything. Now, the questions begin: Why was he searching for the Infinity Stone? How did he escape his adamantium prison? Where is Wolverine, and what is he hiding?
The answers will begin to unravel in 2018, but fans will catch glimpses of their favorite mutant in special after-credit scenes at the end of key Marvel titles. Appearing in select issues starting in January, some of Marvel's most acclaimed artists will tease the whereabouts of the adamantium-clawed mutant with tantalizing teaser panels – and it's all connected.
"Fans have been speculating about Wolverine's whereabouts since he first reappeared in MARVEL LEGACY #1—and the Marvel Universe is left just as unaware!" teased SVP and Executive Editor Tom Brevoort. "So keep your eyes peeled as Canada's favorite citizen makes his presence felt in titles all across the Marvel line! It's all leading to something—but what?"
"Mystery has always been part of Wolverine's DNA," added senior editor Mark Paniccia. "He's one of Marvel's most interesting and popular characters. Fans are going to have a helluva ride finding out where he's been and how he came back."
Track Wolverine as he jumps around the Marvel Universe, starting with the following titles:
CAPTAIN AMERICA #697
On-Sale 1/3/18
MIGHTY THOR #703
On-Sale 1/17/18
AMAZING SPIDER-MAN #794
On-Sale 1/24/17