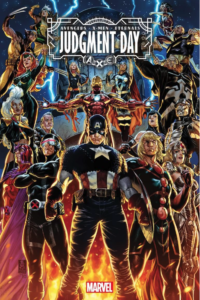 Kieron Gillen, Valerio Schiti, and Marte Gracia kick off the biggest Marvel event of the year on July 20
Here, the Avengers have become a more powerful global force than ever from their base inside a long-dead Celestial. The X-Men have achieved a form of immortality on their utopian island nation of Krakoa. And the Eternals have begun a new cycle of life as they continue their sworn mission to eliminate the Deviants.
But when the Eternals learn that mutantkind itself is a form of excess deviation, a vicious assault on Krakoa ensues – with Earth's Mightiest Heroes trapped in the middle. Get your glimpse at the opening battles in the all-new A.X.E.: JUGDMENT DAY #1 trailer, featuring never-before-seen artwork.
"Honestly, for me, speaking as a reader as much as a writer, there's nothing worse than an event that comes out of nowhere," Gillen said in a recent interview with Popverse. "It had to come from the books. So yeah, I was looking at the Avengers, what Jason [Aaron] has built in the mythology there. I was looking at the X-Books, the secrets of Krakoa coming to light, and I was looking at what I was doing in Eternals, which dances with both of them, the various tensions in Eternal society there. And now, that's stuff going to blow up. It's just that kind of 'Oh, look, these are three logical strains that are intersecting, let's then bring them forth and see what happens with them.'"