By Creative Media Times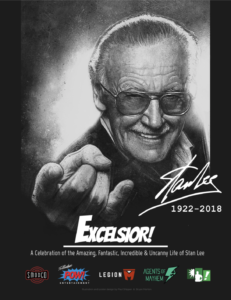 Filmmaker Kevin Smith and many others is set to pay tribute to legendary storyteller, comic book writer and publisher Stan Lee.
Titled "Excelsior! A Celebration of the Amazing, Fantastic, Incredible & Uncanny Life of Stan Lee," the event is set to take place on January 30 at Hollywood's TCL Chinese Theatre.
The event was announced today by Kevin Smith, Legion M and Agents of Mayhem in partnership with Stan Lee's POW! Entertainment" and will benefit The Hero Initiative which is one of Lee's favorite charities.
Fans who wants to attend the event can get tickets today at legionm.com/stantribute. Tickets are limited and goes on sale starting today, Wednesday, January 9, at 5 p.m. PST / 8 p.m. EST.
Scott D. Williams, CEO of Stan Lee's POW! Entertainment said, "We are honored for this chance for Stan's fans and friends to come together in a celebration of his remarkable life. Despite his passing, Stan's name, work and legacy will continue to flourish and be revealed to the world. We are committed to honor Stan's extraordinary life and work."
Gill Champion, Stan Lee's partner and confidante for over 18 years, said, "Stan was a unique and unforgettable human being, truly adored worldwide. He loved coming to work and creating endless new ideas and stories and in spite of his genius he was a relatable and kind man that his admirers could relate to with ease. He will be dearly missed and his legacy will live on now and for many more generations to come."
Producer of the event David Baxter, VP Development at Legion M, writes, "Stan Lee played a major cameo in all the lives of the fans he loved, be it through his writing, his acting or his personal interactions. We feel this tribute is a perfect opportunity for Stan's beloved fans to unite with celebrities and friends of Stan to give the man the grand sendoff he deserves."
Agents of Mayhem founder Darren Passarello, who got his start in entertainment from Stan and is also co-producing the event added, "Stan saw the good and the potential in everyone he met, and he never hesitated to help them if he could. It is not only an esteemed privilege but a personal honor to be a part of this tribute."
The head of The Hero Initiative Jim McLauchlin knew Stan for decades and said, "Stan believed in the 'golden rule,' and always went out of his way to make time for others and make their day just a little bit better. I think this tribute is absolutely in that spirit, and a great chance for fans to get together, share their love for Stan, and find strength in that."