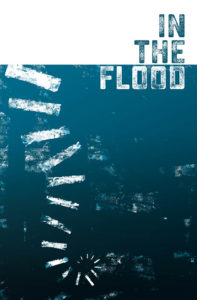 ComiXology originals announces In the Flood, an original graphic novel written and illustrated by Ray Fawkes
ComiXology, Amazon's premier digital comics service, announces In the Flood, a mesmerizing and experimental original graphic novel written and illustrated by Eisner Award nominee, Ray Fawkes, featuring coloring by Lee Loughridge and lettering by Thomas Mauer. In the tradition of films by David Lynch and novels by Haruki Murakami, this strange and compelling graphic novel is full of mystery and symbolism that tells the story of a couple trying to keep their troubled marriage together, while separated by an apocalyptic flood with mysterious properties.
In the Flood debuts December 18th and will be available to read at no additional cost for Amazon Prime, Kindle Unlimited, and comiXology Unlimited members, and will also be available for purchase on Kindle and comiXology.
"In the Flood is a labor of love ­– a project that I was determined to do and I hope readers enjoy the set-up, the mystery, and the payoff," says Fawkes. "This is a unique and nonlinear book, full of metaphor and symbolism, grounded by a very human, very emotional tale of love and loss."

Fawkes, who was born and raised in Toronto, is an acclaimed writer and contemporary figurative painter whose work ranges from literary graphic novels, like the Eisner-nominated One Soul and the acclaimed Intersect, to mainstream comics, including Constantine, Batman: Eternal, and Wolverines. Fawkes is known for challenging readers and experimenting with structurally innovative storytelling, and In the Flood, his first collaboration with acclaimed colorist Lee Loughridge, is no exception.
The story incorporates Fawkes' love of cards—he's a skilled card player who once very nearly decided to try his hand at professional gambling—with illusion.
Thomas Mauer's expressive lettering combined with Loughridge's gorgeous color illuminate the relationship of Mike and Clara, as Fawkes weaves a surreal and haunting horror story that demands a close read.