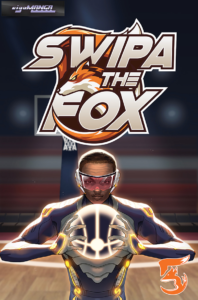 Comic book publishing company eigoMANGA will release the original English language manga "Swipa The Fox" which features NBA point guard for the Sacramento Kings, De'Aaron Fox to comic book stores on June 15, 2022. "Swipa The Fox" the manga is written by Natashia McGough Clarke and Nnamdi Ikeakor. The artwork is produced by Paulo Sampaio.
Here, De'Aaron Fox accidentally ventures into a basketball video game metaverse while his video game counterpart causes havoc in the real world. De'Aaron has to harness all of his world-class basketball skills to play his way out of the digital game and return to reality.
"Swipa The Fox" aims to delve into a fascinating story that combines basketball and artificial intelligence. Through many twists and turns, the reader goes on a journey with De'Aaron and follows his efforts to return back to the real world and in turn, send his video game counterpart back into the digital game. "Swipa The Fox" the manga is available to comic bookstores on June 15, 2022, and is available for pre-order on platforms such as PREVIEWS World and Comic Distro.