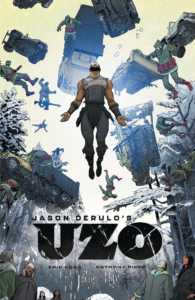 Available everywhere December 13th, 'Uzo' is Jason Derulo and Z2 Comics' new graphic novel, based on a superhero Derulo first introduced on TikTok.
Uzo brings a chilling vision of the future where the United States is plunged in a "new ice age," highlighting Derulo's concern for the current global warming crisis. When the U.S. government breaks up a planet-killing asteroid in orbit, the consequence is a hail of meteorites that plunges the Earth into a new ice age.
Decades later, humanity is at the brink of extinction. Tribal hunter Uzo uses his enhanced physiology and dual hatchets to protect his village and the nearby temperate region created by an asteroid fragment. Elsewhere, a splinter militia controlled by a cruel leader known only as the Major seeks the uncanny ore within the meteorites that destroyed society as we know it.
The Major will stop at nothing to recover as much ore as possible, even if it means destroying Uzo's village! Plus, the mystery of Uzo's powers revealed! #WHOISUZO Polar opposites go to war in Jason Derulo's Uzo! By Anthony Piper (Trill League, Marvel's Voices) and Eric Koda (Generation X, Extraordinary X-Men).