Writer and comedian Hasan Minhaj joins all-star creator lineup with G. Willow Wilson, Rainbow Rowell, Saladin Ahmed & more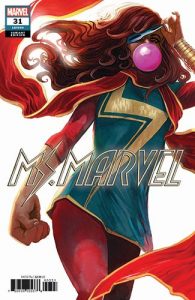 This June marks 50 issues of Kamala Khan, and in MS. MARVEL #31, we're celebrating…slumber party style! As MS. MARVEL #31 brings Kamala, Zoe, Nakia and Mike together for a best friends sleepover, Marvel is also bringing along some very special friends to commemorate this landmark issue.
Marvel is also excited to announce that in addition to rising stars and award-winning creators such as G. Willow Wilson, Hugo Award nominee Saladin Ahmed (Black Bolt) and New York Times bestseller Rainbow Rowell (Runaways), MS. MARVEL #31's all-star roster of talent will include Daily Show correspondent and Peabody Award-winning comedy writer Hasan Minhaj.
Named one of the most influential American Muslims in the media, Minhaj has made waves as an actor, writer, and activist. He was the featured speaker at the 2017 White House Correspondents Dinner, and his critically-acclaimed one-man show, Homecoming King, is currently streaming on Netflix. Later this summer, he'll be seen in the upcoming comedy The Spy Who Dumped Me.
Along with this stellar line-up of writing talent, Marvel is excited to announce that series regular artist Nico Leon will be joined on MS. MARVEL #31 by celebrated artists Bob Quinn, Gusatvo Duarte, and Elmo Bondoc.
"This issue is a truly a one-of-a kind celebration! In honor of all the different kinds of fans Ms. Marvel has, we thought it fitting to make this a jam session of rockstar talent from across the comics and entertainment industry," said editor Sana Amanat. "It's a special story with all the heart and humor we've come to love with Kamala Khan. We're thrilled we made it to 50 issues. Here's to the next 50!"
Will Kamala be able to save Jersey City AND her party? It's an epic adventure in a very special landmark issue of MS. MARVEL, coming to comic shops this June