Eric Gasa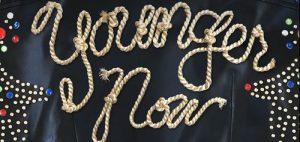 Miley Cyrus has announced a release date and title for her highly anticipated album, Younger Now, which is slated to drop September 29. The advent of this new record finds Cyrus in a very unique position musically. Three years after her viral twerking stunt at the VMAs with Robin Thicke, the party-hard pop artist is now looking to dial back her persona of sex, drugs, and rock & roll, for a more wholesome approach.
The first single from Younger Now, "Malibu" trades the hip-hop beats for a sweet, joyful, and sun-kissed guitar ballad. The music video features Cyrus smiling, dancing, and running alongside the beach with flowers in her hair. When compared to Cyrus licking a sledgehammer and straddling a wrecking ball naked in 2013's "Wrecking Ball" video, "Malibu" is a complete 180.
The stylistic change comes after the release of Cyrus' last record, Miley Cyrus and Her Dead Petz, a glittery and experimental release that found the artist wearing rainbow colored hair and a unicorn costume onstage. After the tour, Cyrus went on a social media blackout, became politically involved, and moved out to Malibu to get back to her roots.
According to a May 2017 interview with Billboard Magazine, Cyrus is now off drugs, drinking, and going completely clean.

During the 2016 election, Cyrus garnered support for Democratic candidate Bernie Sanders, and then Hillary Clinton soon after, even writing campaign songs and forming #HopefulHippies, a youth activism nonprofit. But now she's looking at reaching out to more conservative, country music fans as well.
"I don't think people are going to listen to me when I'm sitting there in nipple pasties, you know?" she told Billboard regarding her switch.
Cyrus' father and former singer, Billy Ray Cyrus, also shared his notion regarding the new record, saying, "This is Miley leaning into her roots more than I've ever heard… For her, this is honest."
Cyrus' second single from Younger Now, "Inspired" is an even more intimate and personal affair. On the track, Cyrus croons alongside a violin and slide guitar combo that reminisces like an old country record. Regardless of preconceptions of Cyrus and her music, it is easy to see that she is putting her heart into this latest record.
But Miley seems to sum up the essence of her own album the best when she says that Younger Now will be like "…giving the world a hug and saying 'Hey, look. We're good. I love you.' And I hope you can say you love me back."
For the former Hannah Montana star, it seems that it's never too late to turn a new leaf.