By Creative Media Times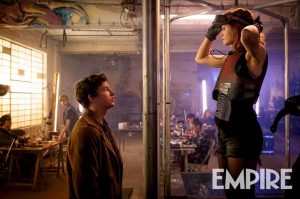 Anticipation for Stephen Spielberg's next big sci-fi movie "Ready Player One" has been running high ever since Warner Bros. unveiled the film's trailer to a very enthusiastic reception at last month's Comic-Con in San Diego. As soon as Iron Giant showed up in the trailer, fans just went insane. It truly was a very special reveal.
So far, the trailer is mostly focused on its lead character Wade Owen Watts / Parzival (played by Tye Sheridan) and the virtual reality world of the Ontologically Anthropocentric Sensory Immersive Simulation, aka OASIS.
Now we have a first-look image, via Empire Magazine which reveals female lead Olivia Cooke's Samantha Evelyn Cook/Art3mis. Cooke was actually the first to be cast in the film, back in September 2015, and we are sure to see more of her character as we get closer to the film's release, along with other major characters such as Mark Rylance's James Halliday and T. J. Miller's i-R0k.
Based on Ernest Cline's novel of the same name and is being directed by Spielberg "Ready Player One" arrives in theaters on March 30, 2018.
Here is Ready Player One's official synopsis:
The film is set in 2045, with the world on the brink of chaos and collapse. But the people have found salvation in the OASIS, an expansive virtual reality universe created by the brilliant and eccentric James Halliday (Mark Rylance). When Halliday dies, he leaves his immense fortune to the first person to find a digital Easter egg he has hidden somewhere in the OASIS, sparking a contest that grips the entire world. When an unlikely young hero named Wade Watts (Tye Sheridan) decides to join the contest, he is hurled into a breakneck, reality-bending treasure hunt through a fantastical universe of mystery, discovery and danger.