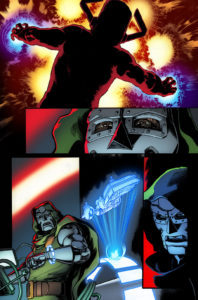 Who is VICTORIOUS? In Fantastic Four (2018) #6, Galactus returns to devour the Earth…and only one man can save us: DOCTOR DOOM!? But where is that agitator, Reed Richards and his meddlesome family? What are they doing? Turns out, they're locked in battle against the brave new hero of the Latverian people, VICTORIOUS. Powerhouse talents Dan Slott (AMAZING SPIDER-MAN) and Aaron Kuder (ALL-NEW GUARDIANS OF THE GALAXY) introduce us to the new Herald of Doom! And, for a limited time, you can get a behind-the-scenes peek at their creation.
Those who have preordered or purchased a digital copy of FANTASTIC FOUR #6 before 1/29, 11:59 PM ET, will instead receive the DIRECTOR'S CUT edition of FANTASTIC FOUR (2018-) #6.
This exclusive content will feature a draft of #1's plot, inked pages, color pages, a variant cover gallery, never-before-seen character designs and MORE. Buy Fantastic Four (2018-) #6 in the Marvel Comics App or Digital Comics Shop Today and receive a Behind-the-Scenes Extras at no extra cost.