Digital Subscription library continues to grow with latest updates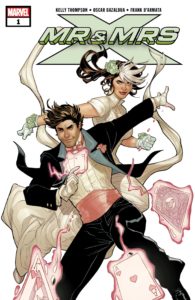 Marvel Unlimited, Marvel's digital comics subscription service, offers members unlimited access to over 20,000 issues of Marvel's classic and newer titles, delivered digitally through your desktop web browser and the Marvel Unlimited mobile app. With classic and newer issues added every week, here are some of the amazing Marvel titles coming to Marvel Unlimited this month:
Week of 1/7
ANT-MAN & THE WASP #3
ASTONISHING X-MEN #13
AVENGERS #4
BEN REILLY: SCARLET SPIDER #21
CAPTAIN AMERICA #1
IT IS WINTER IN AMERICA.For over 70 years, he has stood in stalwart defense of our country and its people. But in the aftermath of Hydra's takeover of the nation, Captain America is a figure of controversy, carrying a tarnished shield…and a new enemy is rising! Who are the Power Elite? And how do they intend to co-opt and corrupt the symbol that is Captain America?
COSMIC GHOST RIDER #1
EXPLODING FROM THE PAGES OF THANOS! Frank Castle was the Punisher. A deal with the devil made him Ghost Rider. A deal with Galactus made him cosmic. A deal with Thanos made him…DEAD?!? Not to worry, he's coming back, and he's got a plan to make the universe a better place that's going to lead him into an even CRAZIER adventure than he's ever been in! Join hot new comic (and cosmic?) writer Donny Cates (THANOS, DOCTOR STRANGE) as he pushes his wildest creation past the breaking point!
DEADPOOL #2
DEATH OF INHUMANS #1
THE TITLE SAYS IT ALL – HERE LIE THE INHUMANS. The Kree have gone murdering, leaving behind a message: Join or die. Thousands of Inhumans have already made their choice — the evidence floats bleeding in space. Black Bolt and his family are next. Rising star Donny Cates and PUNISHER: WAR JOURNAL artist Ariel Olivetti bring their brutal talents to the Inhumans!

DOCTOR STRANGE #3
HUNT FOR WOLVERINE: WEAPON LOST #3
IMMORTAL HULK #2
INFINITY COUNTDOWN: CHAMPIONS #2 SERIES COMPLETE!
MARVEL RISING: SQUIRREL GIRL/MS. MARVEL #1
UNBEATABLE SQUIRREL GIRL author Ryan North and MS. MARVEL writer G. Willow Wilson join MARVEL RISING mastermind Devin Grayson in an all-star escapade! Gamer girl Ember Quade has a secret — a power that lets her bring video games to life! But when her creations attract the attention of super heroes SQUIRREL GIRL and MS. MARVEL, the stakes hit a whole new level. Just what is Ember after? And can Squirrel Girl and Ms. Marvel prevent her pixelated projects from wreaking epic destruction? The next generation of heroes take the universe by storm in the third installment of MARVEL RISING!
SPIDER-MAN/DEADPOOL #35
SPIDEY: SCHOOL'S OUT #3
STAR WARS #50
STAR WARS: THE LAST JEDI ADAPTATION #4
WEAPON X #20
X-MEN: GOLD #31
Week of 1/14
AMAZING SPIDER-MAN #1 WRAPAROUND COVER
An alien invasion hits New York City and the only one who can stop it is…Spider-Man?! And if even that's not enough, you'll see a new roommate, new love interests – and a new villain! Spider-Man goes back to basics courtesy of Nick Spencer (SECRET EMPIRE, SUPERIOR FOES OF SPIDER-MAN) and the Marvel debut of RYAN OTTLEY (Invincible)!
AMAZING SPIDER-MAN: RENEW YOUR VOWS #21
CHAMPIONS #22
DAREDEVIL #605
DARTH VADER #18
DEADPOOL: ASSASSIN #3
DOMINO #4
EXILES #5
HUNT FOR WOLVERINE: ADAMANTIUM AGENDA #3
INFINITY COUNTDOWN: DARKHAWK #4 SERIES COMPLETE!
MS. MARVEL #32
NEW MUTANTS: DEAD SOULS #5
OLD MAN LOGAN #43
QUICKSILVER: NO SURRENDER #3
STAR WARS: THRAWN #6 SERIES COMPLETE!
THE PUNISHER #227
THE UNBEATABLE SQUIRREL GIRL #34
X-23 #1
Cloned from a warrior, raised as a killer, Laura Kinney has gone through hell and come out the other side a hero. After a stint as the All-New Wolverine, she returns to her roots as X-23 to make sure no one ever has to go through the horrors she did. With her sister Gabby and their pet Jonathan in tow, X-23 forges her own destiny in this new series by Mariko Tamaki (HULK, HUNT FOR WOLVERINE: CLAWS OF A KILLER) and Juann Cabal (ALL-NEW WOLVERINE, ELEKTRA).
X-MEN: BLUE #31
Week of 1/21
AVENGERS #5
CABLE #159 SERIES COMPLETE!
CLOAK AND DAGGER – MARVEL DIGITAL ORIGINAL #1
A DOUBLE-SIZED MARVEL DIGITAL ORIGINAL! For years, Tyrone Johnson and Tandy Bowen were the super hero duo called CLOAK AND DAGGER — waging a citywide war on drugs, organized crime and corporate greed. In recent years, their crusade has taken them across the globe, fighting alongside Spider-Man, The X-Men and even The Avengers, and though they've drifted apart, a dangerous threat from their past has resurfaced — one that will force Cloak and Dagger to reunite and come to terms with their truest feelings for one another and the past they share! Plus, the murders Dagger has been investigating continue…with victims who look like they've had the life sucked out of them.
DARTH VADER ANNUAL #2
HUNT FOR WOLVERINE: CLAWS OF A KILLER #3
IMMORTAL HULK #3
INFINITY COUNTDOWN #5 SERIES COMPLETE!
JESSICA JONES – MARVEL DIGITAL ORIGINAL #1
A DOUBLE-SIZED Marvel Digital Original you don't want to miss! BLIND SPOT Part 1! Jessica Jones was once the costumed super hero known as Jewel. She sucked at it. Now she's a private investigator at her own firm, Alias Investigations. She sucks less at that. With the Purple Man gone, her relationship with her husband, Luke Cage, and their daughter, Danielle, is better than ever. But her past always comes knocking, and when a woman whose case she fumbled winds up dead on her office floor, Jessica goes from private investigator to prime suspect. Can she find the real killer and clear her name?
MARVEL SUPER HERO ADVENTURES: MS. MARVEL AND THE TELEPORTING DOG #1
SPIDER-MAN TEAMS UP WITH MS. MARVEL AND LOCKJAW FOR SLITHERING SUSPENSE! There's trouble in Jersey City! The Serpent Society has a new recruit — and she's about to make the biggest mistake of her life. With six-against-one odds, Spidey's in over his head. Luckily Jersey City's very own Ms. Marvel is here to help! And she's not alone. Lockjaw, the teleporting bulldog and Ms. Marvel's favorite fellow Inhuman, is ready to play! Can the heroes rescue a young girl in need of friends — and send the Serpent Society scurrying?
OLD MAN HAWKEYE #7
PETER PARKER: THE SPECTACULAR SPIDER-MAN #307
RUNAWAYS #11
SPIDER-GWEN #34 SERIES COMPLETE!
SPIDER-MAN/DEADPOOL #36
SPIDEY: SCHOOL'S OUT #4
STAR WARS #51
STAR WARS: POE DAMERON #29
THE LIFE OF CAPTAIN MARVEL #1
THE DEFINITIVE ORIGIN OF CAPTAIN MARVEL! Carol Danvers was just a girl from the Boston suburbs who loved science and the Red Sox until a chance encounter with a Kree hero gave her incredible super-powers. Now, she's a leader in the Avengers and the commander of Alpha Flight. But what if there were more to the story? When crippling anxiety attacks put her on the sidelines in the middle of a fight, Carol finds herself reliving memories of a life she thought was far behind her. You can't outrun where you're from — and sometimes, you HAVE to go home again. But there are skeletons in Captain Marvel's closet — and what she discovers will change her entire world. Written by best-selling author Margaret Stohl and drawn by fan-favorite comics veteran Carlos Pacheco, this is the true origin of Captain Marvel.
THOR #3
TONY STARK: IRON MAN #2
WEAPON H #5
X-MEN: GOLD #32
X-MEN: RED #6
Week of 1/28
AMAZING SPIDER-MAN #2
DEADPOOL: ASSASSIN #4
HUNT FOR WOLVERINE: MYSTERY IN MADRIPOOR #3
INFINITY WARS PRIME #1
Trust us, Marvel Fans – before the INFINITY WARS begin to rage comes this shocking chapter of the cosmic saga that you will not want to miss! The ramifications of this issue will be felt throughout Infinity for years to come! We can say NO MORE!
MARVEL 2-IN-ONE #8
MOON GIRL AND DEVIL DINOSAUR #33
MOON KNIGHT #197
MR. AND MRS. X #1
LOVE & MARRIAGE PART 1! Straight from the pages of X-MEN GOLD…to the surprise of everyone, the Marvel Universe's hottest couple has finally tied the knot! In their extraordinary lives, they've faced nearly every challenge imaginable, but how will they fare against former flames making trouble? An entire galaxy in jeopardy? You want it? We got it, as Kelly Thompson (HAWKEYE, ROGUE & GAMBIT) and Oscar Bazaldua (SPIDER-MAN, STAR WARS: ROGUE ONE) bring you the tantalizing tale of a modern marriage…X-MEN STYLE!
MULTIPLE MAN #2
OLD MAN LOGAN #44
SENTRY #2
STAR WARS: DOCTOR APHRA #22
STAR WARS: LANDO – DOUBLE OR NOTHING #3
THE PUNISHER #228 SERIES COMPLETE!
VENOM #4
X-23 #2
X-MEN: BLUE #32
X-MEN: GRAND DESIGN – SECOND GENESIS #1
It's ALL-NEW and ALL-DIFFERENT! Witness Wolverine, Thunderbird, Colossus, Storm and Sunfire suit up as X-Men for the very first time all over again! All through the lens of comics auteur ED PISKOR, who lovingly researches, writes, pencils, inks, colors and letters every page just for you! The second act of X-MEN GRAND DESIGN begins now!
X-MEN: WAKANDA FOREVER #1
Former Dora Milaje member and eternal troublemaker Nakia, A.K.A. Malice, has set a trap to lure the Black Panther into her obsessive clutches! Step One: Take out the Panther's one true love, Storm of the X-Men! But Nakia didn't count on the interference of her former warriors-in-arms, the fierce Dora Milaje — and they're hot on her trail. Can Okoye, Ayo and Aneka capture Malice before she wreaks havoc on their king's life — again? The talented Ray-Anthony Height joins best-selling author Nnedi Okorafor for the second installment of WAKANDA FOREVER!
Marvel Unlimited members have access to some of the greatest Marvel Comics featuring The Avengers, Spider-Man, Thor, Black Panther, Captain Marvel and more! With January's update, Marvel Unlimited will also be expanding its back catalog with the following issues: GAMBIT (1999) #13-24, THE PUNISHER (1987) #11-23, EXCALIBUR (1988) #35-41, POWER MAN (1974) #32-47, and much, MUCH more! This amazing service is accessible through Marvel Unlimited on the web and through the Marvel Unlimited app on iPhone®, iPad® and on select Android™ devices.