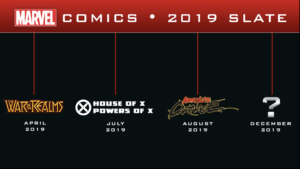 This weekend, Marvel unveiled its 2019 Publishing Slate to a hall of fans attending Marvel's Next Big Thing panel during this year's Chicago Comic & Entertainment Expo. Hosted by Editor-in-Chief C.B. Cebulski along with some of Marvel's biggest creators, the panel recapped some of the weekend's biggest Marvel Comics news and teased what's next in the Marvel Universe – pointing to a yet-to-be-revealed story in December.
"We're only a few months into 2019, and we've already seen how our amazing fans – all of you – are inspiring some of the most outstanding storytelling in comics to date," said Cebulski. "Whether you choose to read your favorite Marvel books – like the Immortal Hulk, Venom, Avengers: No Road Home…or you want to read about the entire Marvel Universe – there's truly a story for every type of fan to dive into and experience this year. With that in mind, this new publishing slate for Marvel Comics is a guide to help you see where things are going and choose your favorite stories and characters to follow."
Since the convention's opening on Friday, attendees have received thrilling new looks at Marvel's world-shaking WAR OF THE REALMS series, written by Jason Aaron and drawn by Young Gun Russell Dauterman; the deadly ABSOLUTE CARNAGE event, written by Donny Cates and drawn by Ryan Stegman; and the next monumental chapter for the X-Men with HOUSE OF X and POWERS OF X, written by Jonathan Hickman and drawn by Young Gun Pepe Larraz and R.B. Silva respectively.

Each of these standalone series will introduce fans to groundbreaking new ideas and shocking implications for the Marvel Universe, setting the scene for Marvel's most iconic and popular Super Heroes later this year.
The Marvel Universe is a tapestry of connections, with hidden clues and incredible details woven into every story. Our new publishing slate highlights the biggest moments for us this year…and we think you all will be excited for the next reveal planned this December," added Cebulski.
More details on Marvel's 2019 Publishing Slate will be revealed in the coming weeks. Starting next month, get ready for some of the biggest stories ever in the pages of Marvel Comics.