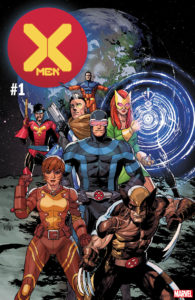 Following the historic House of X and Powers of X, these new series will usher in the next era of X-Men
With just days until HOUSE OF X #1 hits store shelves, Marvel announced six brand-new ongoing series with a suite of all-star creative teams to take mutantkind further than they've ever gone before, kicking off with X-MEN, EXCALIBUR, MARAUDERS, NEW MUTANTS, FALLEN ANGELS, AND X-FORCE.
Announced at Marvel's Next Big Thing panel at San Diego Comic Con, these new series will build directly from the universe-shifting events of HOUSE OF X and POWERS OF X.
"House of X and Powers of X lay the groundwork for a whole new world of X-Men stories for years to come, and the Dawn of X books are the promise of that new world come to life," said X-Men Senior Editor Jordan D. White. "They are the start of the new era that will change how we think of the X-Men and the kinds of stories we tell with them. It all begins here."
Starting this October, writer Jonathan Hickman and artist Leinil Francis Yu will lead mutantkind into the Marvel Universe with the flagship X-MEN series, hand in hand with EXCALIBUR #1 written by Tini Howard and drawn by Marcus To; and MARAUDERS #1 written by Gerry Duggan and drawn by Matteo Lolli!
Later in November, the Dawn of X will continue with NEW MUTANTS #1 written by Jonathan Hickman and Ed Brisson; FALLEN ANGELS #1 written by Bryan Edward Hill and drawn by Szymon Kudranski; and X-FORCE #1 written by Benjamin Percy and drawn by Joshua Cassara!
These new series will kick off the first phase of Jonathan Hickman's massive multi-year plan for the X-Men, redefining everything the world knows about mutants and their place in the universe. As the perfect jumping on point for new and long-time X-Men fans, these extraordinary series will change everything – with only more to come in the months and years ahead.