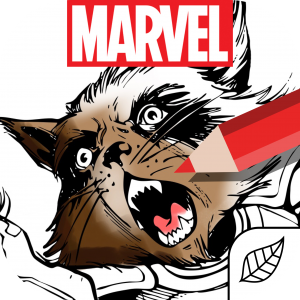 Marvel Entertainment and Pixite launch exciting new coloring app featuring your favorite Marvel Super Heroes
New York, NY – April 27, 2017 – Pixite LLC, creators of award-winning entertainment apps, announced today the launch of its newest and most anticipated coloring book app, MARVEL: COLOR YOUR OWN powered by Pigment. Full of action-packed designs and exclusive Laser and Halftone coloring tools, MARVEL: COLOR YOUR OWN is a free to download app that lets users become part of the creative process and allows them to bring their own artistic choices to the Marvel Universe.
MARVEL: COLOR YOUR OWN offers 200 incredible coloring pages from Guardians of the Galaxy, Civil War, Doctor Strange, Age of Ultron, Women of Power, Young Marvel, and more. Each week, the amazing collection keeps growing as more pages are added to it. Satisfying fans of all ages, each design is hand-picked and fully vectorized, allowing the stellar line work to remain silky smooth without any pixilation even when users are fully zoomed into the pages.
"Color adds a vital layer to the comic book page that brings everything to three-dimensional life," says Axel Alonso, Marvel Editor in Chief. "MARVEL: COLOR YOUR OWN, quite literally, allows users to take control of how they want their favorite Super Heroes to appear and grants fans of all ages the ability to bring their own personal style to the Marvel Universe."
For artists on the go, MARVEL: COLOR YOUR OWN provides five free stunning fill effects ranging from the standard fill to the ultra-realistic metallic and graphite effects. For artists who want the full-blown coloring experience, MARVEL: COLOR YOUR OWN provides five free exhilarating brushes ranging from the all-purpose marker and airbrush to the specialized laser and halftone brushes, exclusive to MARVEL: COLOR YOUR OWN. There is no limit to the creativity that users can unleash with these extraordinary coloring tools.
The Ultimate Access subscription, available as an in-app purchase, takes MARVEL: COLOR YOUR OWN to the next level by unlocking all of the premium pages, along with additional fill effects, brushes, and color palettes. Ultimate Access also removes the watermark on saved images and allows saving in high-resolution, which is fantastic for printing the finished masterpiece.
"Because coloring was such a big part of my childhood, I find myself as an adult sneaking away from my desk to color my own version of Groot or Iron Man," says Pixite co-founder, Eugene Kaneko. "Being able to color all my favorite Marvel Super Heroes anywhere using my phone or tablet is, in one word, awesome!"
MARVEL: COLOR YOUR OWN will be available globally as a free download with in-app subscription on the App Store.