Members of the New Mutants and X-Factor join together in this terrifying tale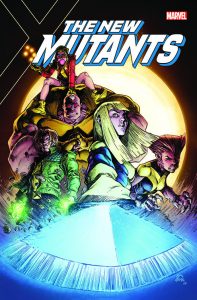 Who are the best heroes to bring together when paranormal events need investigating? Fans will find out in NEW MUTANTS: DEAD SOULS, a six-issue limited series debuting this March from superstar creative team Matt Rosenberg (Phoenix: Resurrection, Secret Warriors) and Adam Gorham (Rocket).
"To me, The New Mutants exemplify everything I love about a superhero team," said series writer Matt Rosenberg. "They are true underdogs, doubted and dismissed, but always ready to prove themselves. They're the weirdos, the outcasts, the leftovers, and the misfits, but they are there for the people who need them."
NEW MUTANTS: DEAD SOULS finds Magik, Wolfsbane, Rictor, Boom Boom, and Strong Guy attempting to figure out why strange events are occurring in the universe. But there's more to their mission than meets the eye…and a bigger mystery is brewing, as the team realizes Karma – the mind-controlling mutant who has brought them together — may not be telling them the entire story. With each issue serving as a standalone tale, the mutants will try to uncover the truth behind these paranormal events – no matter who they have to battle.
"They're constantly in way over their heads, but always rise above. Our series takes all of that, collects some of the best New Mutants alongside some oddballs better known for their time with X-Factor and X-Force, and throws them into a mission they aren't at all ready for. We pack it full of nods to the history of the team and hints about their future, and enough creepy moments, epic battles, offbeat humor, and dysfunctional family dynamics to make a book worthy of the title The New Mutants," continues Rosenberg.