A new hardcover collection coming June 2019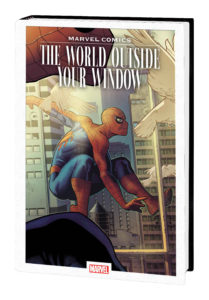 Since its inception, the Marvel Universe has been creating stories to reflect the world outside your window—and now, some of the most powerful tales from Marvel's 80-year history are being collected into one larger-than-life volume.
Collecting stories from 1963's Amazing Spider-Man to 2016's Champions, each story showcases iconic Marvel characters tackling important and poignant real-life issues such as addiction, terrorism, HIV, school shootings, and more, alongside their extraordinary and high-flying adventures. Look below for the full list of stories included in this collection, on sale at your local comic shops in June.
AMAZING SPIDER-MAN (1963) #97
HOWARD THE DUCK (1976) #8
IRON MAN (1968) #128
NEW MUTANTS (1983) #45
ALPHA FLIGHT (1983) #106
UNCANNY X-MEN (1981) #303
INCREDIBLE HULK (1968) #420
AMAZING SPIDER-MAN (1999) #36
CAPTAIN AMERICA (2002) #1
ASTONISHING X-MEN (2004) #51
MS. MARVEL (2015) #13
CHAMPIONS (2016) #24
Material from CAPTAIN AMERICA COMICS #2 and AMAZING SPIDER-MAN (1999) #583