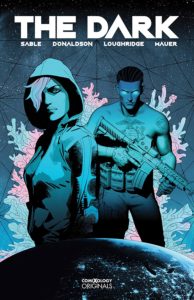 Today, ComiXology, Amazon's premier digital comics service, debuted the original graphic novel The Dark – written by Mark Sable, with art by Kristian Donaldson, colors by Lee Loughridge, letters by Thomas Mauer, and edited by Will Dennis, with consultant Mey Rude. The Dark is set in the year 2045 after a worldwide cyberwar ends technology as we know it. The Dark original graphic novel is available to read now at no additional cost for Amazon Prime, Kindle Unlimited, and comiXology Unlimited members, and is available for purchase on Kindle and comiXology.
The Dark features two unforgettable protagonists: a U.S. marine whose eyes were destroyed in combat and healed using advanced biotech, allowing him to return to the field on a dangerous retrieval mission, and an intelligence operative turned spy, who is a trans woman seeking to further her transition using cutting edge – and stolen – biotech. They'll travel across a world which has been rocked by a terrorist tech plague and mass blackouts to uncover a conspiracy that could change all of humanity.

Kristian Donaldson's art process for The Dark is both unique and immersive. All the characters are painstakingly posed 3-D assets, and every object, vehicle, weapon, building, and city, is fully modeled using 3-D software. "It's the equivalent of shooting a film and having all your sets built out, and all your actors in costume. Every building, every room, every chair, gun, car, and helicopter has been sourced and built and put together to make 'shots' with a free camera in virtual space," says artist Kristian Donaldson. "There have been other books using 3-D but none quite like this by a single artist. I assembled a stable of 3-D assets for over 5 years now before drawing a single page."
"Mark is a great futurist/theorist who writes comic books, and I'm a conceptual environment and architectural artist who draws comic books," says Donaldson. "The space where we align is organic and we've made something fresh and thought provoking, bringing form to a specific time and place through the lens of technology and social struggle. The Dark explores themes of what it means to be human in an age of advanced biotech and bodyhacking. It's a book about what it means to be a soldier when you can be wounded and healed over and over again to continue the fight for your country. And it's a look at what it means to be American when the population has been decimated and the power grid is gone."
"The term 'Biopunk' has come to refer to so-called 'bio-hackers' who can edit genes from their basement labs," said Sable. "In fiction, to me this is a twist on the cyberpunk genre, only using biologically based technology instead of silicon based hardware. We believe The Dark is the first "biopunk" graphic novel."
"The Dark is a military and espionage thriller that is very possible," says Chip Mosher, comiXology's Head of Content. "Readers will be stunned both visually and by the future the book envisions." For more updates on comiXology Originals, check out http://comixologyoriginals.com.