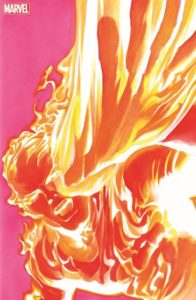 Last week, Marvel announced MARVELS SNAPSHOT, a new series from MARVELS co-creator Kurt Busiek that brings together incredible creative teams to tell new tales showcasing Marvel's greatest heroes.
The series debuts in March with a golden age romp by Alan Brennert and Jerry Ordway before this epic tour through the Marvel Universe continues later that month with MARVELS SNAPSHOT: FANTASTIC FOUR. This second installment will take readers into the zany silver age, turning the spotlight on the Fantastic Four's own Human Torch in a story by comic book creators Evan Dorkin and Sarah Dyer. Known for books like Beasts of Burden as well as writing credits on animated series like Space Ghost: Coast to Coast and Superman: The Animated Series, this duo feels right at home penning this classic tale rooted in the Marvel mythos.
"I'm still blushing that Kurt chose Sarah Dyer and I to tell one of the MARVELS SNAPSHOT stories, especially this one, because the Fantastic Four was my favorite super hero team book as a kid, and MARVELS did a great job of showing how the larger-than-life Marvel characters affect the average person on the street," says Dorkin. "We're trying to do right by both series, packing the story with as much heart, wonder and fun as we can for both older and newer fans to enjoy."

FANTASTIC FOUR: MARVELS SNAPSHOT reunites Dorkin and Dyer with artist Benjamin Dewey who brings this tale to life with the acclaimed art he's known for from books like The Autumnland and Beasts of Burden.
"Teaming up with Kurt, Evan, and Sarah is delightful, challenging and a real education in the deep-cuts lore of characters I thought I knew! I'll do my best to bring the same spark of joy and enthusiasm to the art that has clearly gone into the writing process," says Dewey. "Ultimately we want to offer a story that gives fans a different angle on a beloved comics universe that they might not get from any other project."