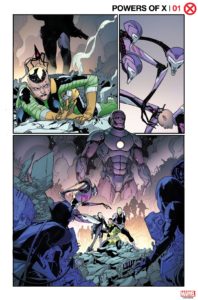 Today, Jonathan Hickman (Fantastic Four, The Avengers, Infinity, Secret Wars) revealed an exclusive first look – and a look forward – for his highly-anticipated upcoming series, HOUSE OF X and POWERS OF X!
Beginning this July through September, all the current X-titles will come to an end as Hickman reshapes the mutant world forever starting with HOUSE OF X and POWERS OF X. Speaking with Comicbook.com Hickman shared his long-term plans for the X-Men with fans and retailers everywhere.
"We needed to sell the idea that this is what we're going to be doing for the next few years," said Hickman. "We wanted to be clear to the fans, to the stores, and just as importantly, to the creators who are going to be staffing these books in the future. We wanted the message to be very clear: This is a whole new era for the X-Men. This is what we're doing now."
Fans of the current series will see that the X-universe has been dovetailing to this new era, which will build from every major X-Men milestone since 1963 up through all of today's fan-favorite X-Men series.

Following HOUSE OF X and POWERS OF X, a new X-universe will emerge, with Hickman leading the first phase with an ongoing flagship X-Men book alongside multiple new series and creative teams. "Some [books] will be traditional fare, some carry through on ideas presented in HOX and POX. Some books are completely new concepts," said Hickman. More details about these books will be revealed at San Diego Comic Con later this July.
With the interview, Comicbook.com also debuted the next set of covers for HOUSE OF X and POWERS OF X issues #2 and #3, along with never-before-seen pages from each issue #1!
"HOUSE OF X, is a story about a pivotal month in the history of the X-Men where everything changes for mutants on Earth. And the other, POWERS OF X, is a story about the history of mutants in the Marvel Universe," explained Hickman. Each series will be released on an alternate weekly schedule, starting with HOUSE OF X, followed by POWERS OF X. Fans will be able to follow along each week this summer and witness history unfold.
For more information on HOUSE OF X and POWERS OF X and other new Marvel comics, check out this week's special episode of Marvel's PULL LIST at http://marvel.com/augustcomics.Tune in to Marvel's Pull List each week for more exclusive news and reveals!