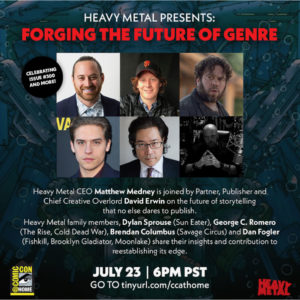 The legacy publisher offers fans access to compelling panel content, a truly unique after party event and an assortment of products available at their virtual exhibition at SDCC 2020.
In the wake of a series of strong new title releases and announcements to date in 2020, Heavy Metal will be talking more about the future of the brand in a Comic Con At Home panel titled, "Heavy Metal Presents: Forging the Future of Genre," set for release on Thursday, July 23rd at 6:00pm PT.
That future includes contributions from a list of both industry veterans and exciting newcomers to the medium, including CEO Matthew Medney, CCO and Publisher David Erwin, Dylan Sprouse (Suneater), George C. Romero (The Rise, Cold Dead War), Brendan Columbus (Savage Circus) and Dan Fogler (Brooklyn Gladiator, Moon Lake), all contributing to the panel, which celebrates the magazine's legacy while maintaining proper forward momentum. The panel will be live at 6:00pm on Thursday, July 23, 2020 at tinyurl.com/ccathome.
That celebration will continue on Saturday, July 25th, as Heavy Metal kicks off a virtual after party with media partner Nerdbot called "Heavy Metal Presents: Comic Con After Hours." With more of a party vibe, the Comic Con After Hours live stream on Nerdbot's Facebook page will feature some of Heavy Metal's best and brightest taking part in loose, fun conversations about pop culture. One in particular will feature David Arquette (actor, Scream) and Cliff Dorfman (writer, Warrior), the co-writers of Heavy Metal's Highwayman, taking on the topic "How To Survive A Horror Film." Another, featuring CEO Medney and Lockheed Martin Space's John Connelly and entitled "Putting The Science in Sci-Fi," riffs on which sci-fi in pop culture got the science right.