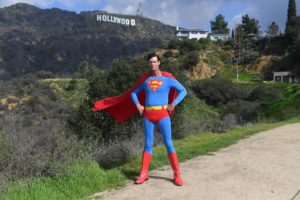 Christopher Dennis, AKA Hollywood Boulevard Superman, tragically passed away November 2 at the age of 52. Chris had been homeless, off and on, for three years prior to his passing, sometimes sleeping in shelters. Family, friends, and fans who had helped him find lodgings over the years, hope to raise funds to give him a final resting place where he can be at peace for eternity.
A crowdfunding campaign has been launched to raise funds for a funeral service, cremation, grave/niche plot, and a memorial plaque at Hollywood Forever Cemetery. https://www.gofundme.com/f/funeral-service-for-hollywood-superman
The GoFundMe page was created on behalf of Christopher's widow, Bonnie Finkenthal Dennis, by Vladislav Kozlov, his long-time friend and director, who produced of a short film starring Christopher, as himself, and film legend Franco Nero, called "The Kid," and has been filming with Christopher for the hybrid documentary feature about Christopher's life, called "American Superman" since 2013.

The news coverage of Chris's untimely passing and reporting on his life and the mark he made in Hollywood have been a beautiful tribute to Christopher Dennis and his memory. The crowdfunding campaign strives to help Hollywood Superman find his final rest in the Hollywood land to which he truly belongs.
June 10, 1991 was the date Chris first stepped foot on the boulevard as Hollywood Superman, according to his Instagram profile. Chris gave smiles to the millions of tourists from all over the world for over 25 years of his Hollywood Boulevard residency and there are thousands and thousands of photographs of Chris with visitors to Hollywood Boulevard online and in photo albums around the world.
Hollywood Superman, along with the world-famous Hollywood sign, and the Hollywood Walk of Fame, have been part of the Hollywood experience for millions of U.S. and international tourists in Hollywood for decades. Sadly, Hollywood Superman has taken his last bow on the boulevard.
People are invited to post their photos and videos and share good memories of Christopher on social media.