Writer/Director Spencer F. Lee presents a star infused panel moderated by Greg Grunberg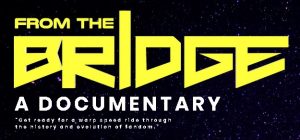 Executive Producer George Noe is pleased to announce the San Diego Comic-Con debut of the sci-fi documentary, From The Bridge. In this film, fans will be treated to a whirlwind cinematic journey chronicling the evolution of sci-fi, horror and comic book fandom as recounted by some of the biggest names in these genres. Host, George Takei (Star Trek) will guide us through never-before-seen archival footage featuring creators like George Lucas and never before aired interviews with the likes of Gene Roddenberry, Leonard Nimoy and many more. This is a first look at this groundbreaking feature which will, assuredly, set the pace for the largest Comic-Con ever in the San Diego Convention Center's 4000 seat Ballroom 20 on Thursday, July 19th beginning at 10am. Sneak peek: https://youtu.be/o_Lh9o8j49k
From The Bridge features original interviews with Stan Lee, Nichelle Nichols, Gene Simmons, Joe Dante, Tom DeSanto, Adam Nimoy, Bryan Fuller, Neal Adams, Doug Jones, Rod Roddenberry, Howard Roffman and many more including Super Fans. This groundbreaking documentary feature is set for a theatrical run in late summer 2018 and will be released on VOD, DVD, and Blu-ray in November. North American distribution will be handled by Gravitas Ventures, a Red Arrow Studios company.
Comic Con favorite Greg Grunberg (Star Trek: Beyond), often nicknamed the "Mayor of Comic-Con", will serve as moderator for the panel featuring writer-director Spencer F. Lee, Nichelle Nichols, Rod Roddenberry, Kerry O'Quinn, Tom DeSanto, uber cos-player Cecil Grimes and special guests. Following the debut clips which will screen at the start of the Thursday, July 19th 10am panel, Grunberg will lead a spirited discussion and Q&A on the evolution of science fiction, fantasy, comic book and horror fandom and the positive impact each has had on popular culture.
"When I created 'From the Bridge,' I set out to tell the amazing, awe inspiring story of the many iconic artists and visionaries who helped shape a historic movement that, today, is collectively known as 'Fandom.' To the non-fans who might not know this rich history and may believe it is defined by crazy, cool costumes, the heart of this movement is a celebration of acceptance of the diverse and unique things that make each of us human. It is my honor to be able to share the history of these groundbreaking innvators and historic fans' stories with everyone," says Spencer F. Lee.